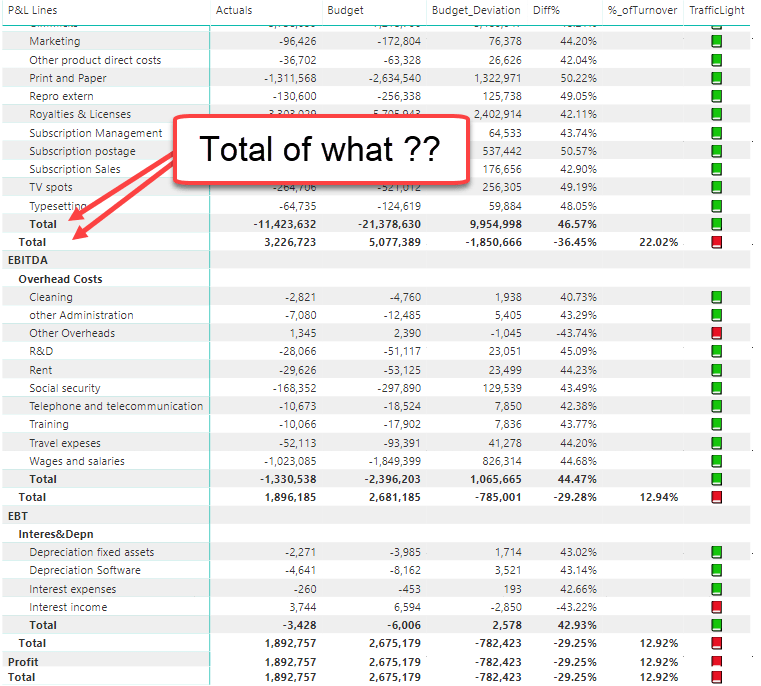 !! This is a clickbait post to get your vote for some missing features in Power BI !!
Although this might not be what the inventors of Power BI had in mind, large lots of folks are trying to create classical financial statements in it. And putting aside the afford that might go into getting the numbers right, there is still a major drawback to swallow:
We want to see our totals below the details and we need to see what they are and where they belong to.
If we decide to show subtotals on the bottom, we'd prefer to see everything on the bottom, including the attribute.
And an option to spare us the mention on top (green) would be very much appreciated as well: Just place everything on the bottom like so:
If you want to see this feature, please vote for it here:
https://ideas.powerbi.com/forums/265200-power-bi-ideas/suggestions/36031306-when-showing-subtotals-at-the-bottom-show-the-att
And another feature that's missing in my eyes is conditional formatting to be applied on subtotals as well. This would allow us to use a larger variety of symbols for traffic light indicators, as we could use the native conditional formatting to apply colours: https://ideas.powerbi.com/forums/265200-power-bi-ideas/suggestions/17401381-conditional-formatting-for-total-and-subtotals-in
So pleeeeeease leave your votes on these features, as they will determine the priority for the team to work on!
Thanks & stay queryioius 😉