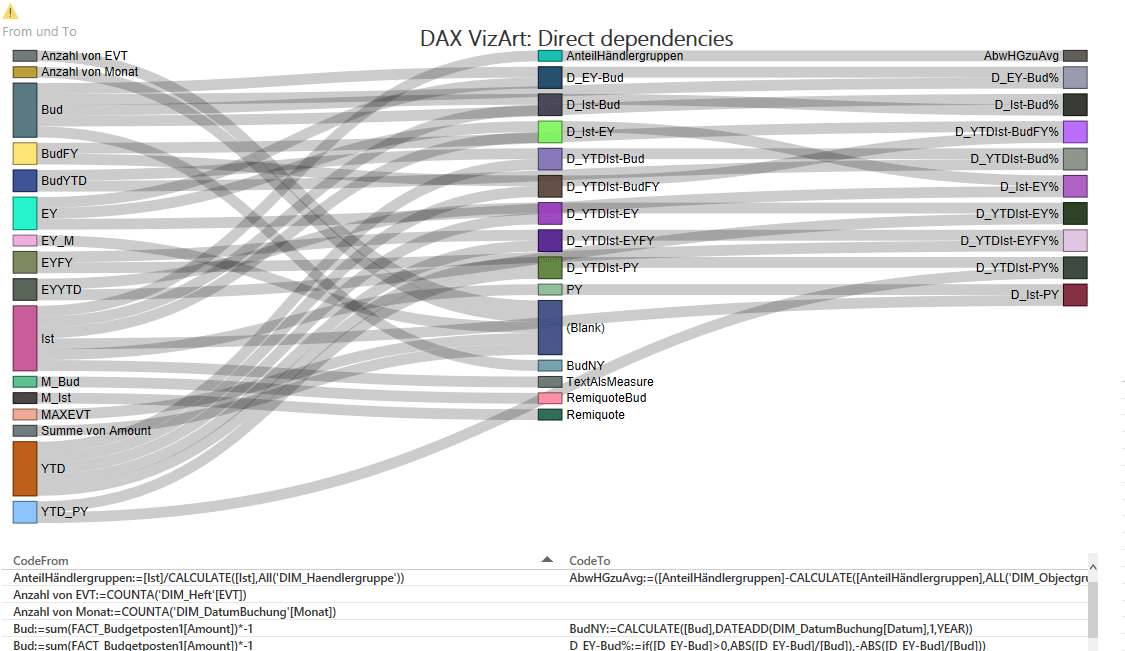 This DAX-VizArt-Wizard vizualizes dependencies between your DAX measures, shows the definition of all related measures and shows differences between the measures of 2 models/versions. This works for Power Pivot, Power BI and for Analysis Services Tabular (SSAS).
In the Power BI-Version you'll see them in the Sankey-chart like this:
If select measures/nodes, all direct connections will be highlighted:
In the second version, all indirect connections will be highlighted as well & the selected measure definitions will be shown.
In the not-so-fancy Excel-Version you'll see them in a table-Version, like some of you might know already from my Power Query Management Studio, where this code is mostly copied from:
You can also compare 2 versions of your model and show differences only:
So how to handle these tools?
If you haven't done already, download the sankey diagram from the

Power BI Visuals Gallery

.
Extract your measures using DAX Studio like Matt Allington has posted here
Reference this sheet from your file or copy the whole table into the Excel-sheet "DAX" (like I did in the example files).
Refresh All
Open the pbix in Power BI Desktop and check the reference to the xlsx-file – refresh as well
Compare versions: In sheet "DAX_Version2" you can fill in the table from a previous version of your model and then sheet "VersionComparison" will give you all measures that have been changed, deleted or added (after the refresh).
The blue "Analyse"-sheets give you some table outputs for analysing your measures with respect to their relations under each other if you don't like the graphical form.
The M-code might not be ideal, as this is basically a variation of my Power Query Management Studio – expanded a bit to enable the Sankey-VizArt – so might contain some inefficiencies. So if you feel like cleaning up, adjusting or expanding – please run riot and share 🙂
There are 2 files, the pbix referencing the xlsx:
DAX_VizArt_Wizard.xlsx
DAX_VizArtWizard-pbix.zip
Enjoy & stay queryious 🙂
Please tell me what you think of this DAX-VizArt-Wizard: Do you find this useful? Where would you use it for? Any ideas for improvement?
Edit 6th April 2016: Gerhard Brückl found a different way to accomplish the query for the chart here. Using DMV's that also consider calculated columns!